Here it is. The very last Rebel Transmission on Padawanline.
*Dramatic pause*
OK so that's a little too dramatic. I highly doubt this will be the last time I talk about Rebels on the blog, just the last time I'll do it in this format.
Whoo boy there's a lot to talk about on this one. A lot. But it's all stuff that has been on my mind for well over a month now, so hopefully I'll be able to stir up some satisfying discussion for you all on this last Transmission. Get comfy, this is gonna be a long one…
Contains spoilers from Episode III, Episode VI, Episode VII, Episode VIII, TCW episode Point Of No Return, and much of Star Wars Rebels, including Family Reunion – And Farewell.
From start to finish, this is a story about family. Not just this episode, but every episode these last four seasons.
And we're not just talking the dictionary definition of family, of people related by flesh and blood. We're talking about what I've come to term as "thicker-than-blood": friends who are basically family, bonds that far exceed any shared DNA. SWR painted the most beautiful picture of this idea over the course of the series that I'd never really seen anything quite like before.
At the very beginning of it all, Ezra was separated from his birth family. He wasn't looking for anyone to fill that void, especially not a group of individuals that, like his imprisoned parents, Rebelled on a daily basis. But one day, the boy was called to be part of something more. In doing so, he found a dad, a mom, a brother, a sister, and a pet droid. And through this new family, values instilled in him by his birth parents would grow from a spark to a raging wildfire, making him the selfless, determined-to-help-others-at-any-personal-cost young man he is today. I know I've talked about this before, but frankly, it's worth saying over and over again. Ezra Bridger's journey is truly amazing. And watching the beginning again stirred up so so many memories, I didn't have a choice but to write this paragraph.
Yes, watching Ezra talking to the holo-portrait of his parents melted my heart in all the ways, but to realize how final it all sounded… that concerned me. "Hold on! We're not seriously going to lose Ezra, right?? We can't! It's hard enough losing Kanan! I'M NOT READY!!"
I'd spent so long pulling for the Ghost family Jedi to make it somehow despite Yoda's deathbed claims, that watching Kanan go really hit me hard out of left field. So I was clinging pretty darn hard on the technicality that since Ezra was not an official Jedi, so he could make it.
But somehow, it wasn't as hard to watch Ez go as I thought it would be. Not just because they gave us the inkling of hope that he may still be alive, but because his act of self-sacrifice was so noble and so powerful. And it was even more meaningful when I remembered he was doing what Kanan taught him in that last lesson. Wow. The end of his story (for now) was the best it possibly could have been. A fitting last chapter to really show just how far he's come from that first spark of rebellion ❤
You know, I had a neat revelation after watching this the first time. It's easy to see that Hera is what ultimately brought the Ghost family together. She's in the business, it seems, of pulling together the most broken, flawed people and turning them into heroes. Just look what she did with a noncommittal, bitter ex-Jedi, an old, broken astromech, a guilt-ridden, hopeless warrior, a disgraced, unjustly-accused Mandalorian, and a self-serving street kid! And from there, this family she brought together helped expand that family as they did the same thing — making real heroes out of often the galaxy's lowest of the low. Forgotten, cast-aside clone troopers became leaders again. A crusty pirate with no crew found new purpose and new friends. A high-and-mighty ISBN agent gave up all his prestige to do the right thing. A young bounty hunter chose to do something with far greater reward than money. A dishonest dealer who caused a lot of trouble in the past stepped up to the cause. A jaded former governor found a new mission. Even seemingly-ordinary kids like Jai and Mart were brought into this family of heroes. And I don't know why Melch keeps getting involved, but I'm hoping it's because all this selflessness is contagious 🙂 And it all started with Hera, not just because of her natural-born leadership, but because she saw something in all of them that made them family, somehow.
This might not be anything new, but it's just such a cool thing to think about and it's just another thing so meaningful about this finale — that we get to spend it with just about all the family :3
Like I talked about some last episode, all the teamwork in the room is just amazing. We have the most unconventional set of Rebels working together and they're just owning it! It's more than I ever expected to see in the finale, and it continues to blow my mind and gives me all the feels. And it's also so fun watching the most mismatched of teams working together amidst the varying levels of personality clashes, like with the oh-so-precise-and-well-planned Kallus stuck with the more action-oriented, blast-down-the-doors wild cards Gregor and Zeb. "He's crazy!" "BUT IT WAS YOUR PLAN!" Delightful!
But on that note, yes, I will miss Gregor something awful. I've been holding my breath, unsure of what would become of all these once-lost commanders for years now, not wanting to see another brother down, but knowing it was well-likely to happen. But Gregor did good. I thought we'd lost him ages ago, so getting to spend the time with him that we did was special no matter what.
And wow was Thrawn on his A-game today. Like, he was honestly as cool, calculating, and downright cruel to me as he's ever been this series. I mean seriously some of what he did got me wincing for all the good people left in the galaxy. But at the same time, his confidence and well-thought-out plans never ceased to impress. Again, I really have to thank Lucasfilm for putting the Grand Admiral in the canon and in this series. I'm sure the original novels are solid, but having so little knowledge of that era of books, including him inside of a series I was already very familiar with was the perfect way to meet him. His comeuppance was masterful, but I appreciate they chose to leave it open what ultimately happens to him… either way, Grand Admiral Thrawn was a truly awesome adversary and I definitely look forward to digging into his story some more later. *Sighs because she still has so many novels to catch up on* *But smiles because what a great problem to have!*
Seeing Palpatine again brought the best kind of intrigue for me. I loved this revelation that the Emperor presents himself much as he appeared in the years past. I guess I'd figured people always saw him in that dark cloak, like in Episode III, but this makes so much more sense! Once again, he's doing a really solid job playing the galaxy like a card. Who would doubt such a finely-dressed, kindly politician? But that's exactly what he wants you to think! It's genius! Terrifyingly genius! And then we watch, eyes wide, as the Emperor offers Ezra a family reunion on a silver platter. I don't know about you, but I could almost physically feel the pain of Ezra's inner battle. It's the ultimate temptation, to abandon everything and regain a peaceful life like he had before. And though we know Ezra has a solid sense of right and wrong… we also know Sidious is a master at pulling lightsiders over to the dark. SO MUCH TENSION! SO MANY EMOTIONS! I COULDN'T BREATHE!! DON'T EVEN GET ME STARTED WHEN PALPATINE UNDID EZRA'S CUFFS! AND THEN WHEN EZRA UNLOCKED THE GATEWAY AND I WAS ALL "OMG WHAT ARE YOU DOING??"!! OH MAN!
But there are few greater moments in Star Wars than when a hero wins this battle with himself, overcomes temptation, and defies the darkness.
Couldn't applaud enough.
Also those totally-different red guards were so epic… or are they normal red guards with different armor? Need to read up more on them!
I definitely need to talk about Sabine and Ezra, guys. I remember when the series first began and what I liked most about them was that one-sided-crush dynamic. Every one of Ezra's failed flirts and every one of Sabine's sarcastic replies got me laughing hard. But their relationship has become so so much more since then, and not in the ways I might've assumed. In the last few seasons, we've watched them go from a slightly-lopsided sorta-friendship to a concrete bond of trust, honesty, and faith in each other. I've said this before but it's worth repeating. They've stood alongside each other in their darkest moments, fought impossible odds together, and they just get each other. It's astounding how far they've come. Every moment of this understanding and shared trust, whether spoken or unspoken, speaks incredible volumes, and it could not be more perfect. And the fact that Sabine ultimately (if my understanding's correct) puts aside her own homeworld and her place in the Alliance to protect Lothal for years? This is as real a friendship as it gets. Some days I can't believe how much they've both grown up, how far they've come! I just love them, and who they truly are together — something far more meaningful than just a teenage crush. Something that's nothing short of rock-solid. Something that I just have to describe as powerful.
But all the same… I couldn't help but smile when Sabine quietly caressed his portrait, making me wonder if maybe, just maybe, the feeling's mutual now… :3
Random note, but one of my favorite bits of animation in the whole episode is watching Mart trying to see over Zeb and Kallus' shoulders XD I can relate, Mart! #ShortPeopleUnite! Except he'll probably grow out of it, of course… but, still!
Once the Ghost headed off into the sunset, I wasn't expecting anything but the credits.
Instead, they gave me so much more — a new hope for Kallus, a new chapter for Hera, and a new mission for Sabine and Ahsoka! And also the fact Rex made it to VI which was obviously so epicly cool. I like that none of these stories are really the "end" of their stories, each of them are just an important moment for each of them, and a way to wrap up their arcs in SWR nicely. Let's dig into those first three a little further, OK?
Zeb's impossibly kind gesture to Kallus just wows me. All that time ago, he helped spur the Agent to change his ways, and he could've stopped there. But instead, not only does Zeb forgive his once-mortal enemy, he says "Guess what? You're one of us!" Before this, I had never considered how much Kallus might still be carrying with him, the belief that he'd helped in the purging of an entire people. So what a gift this is, to know there's still hope, and that he is entirely forgiven! I like to think that, in Ezra's absence, that Zeb found a new friend in Kallus. Likely not quite the same level of friendship, but one that still maintains an unshakable loyalty. Leave it to Star Wars to paint such an amazing image of forgiveness and hope, and the truth that real friendships can come from anywhere 🙂 As one of my fave songs goes: When I look into the face / of my enemy / I see my / brother!
I'd spent plenty of time over the last couple years thinking "I could totally see Hera legally-adopting kids after the war's over." OK granted a lot of that was me liking the idea of Hera adopting the Freemakers, but still, it wasn't hard to imagine. So when I Saw the adorable green bean in her copilot's seat… I SQUEE-ED SO HARD! General Syndulla looks so in her element, flying with little Jason (hopefully I spelled it right) by her side! Of course, now I really want to see Jason join Rowan on some Freemaker Adventures… but I'll take any story about Hera and her boy I can get 😀 What a truly perfect way to cap off her story!
And I really thought we'd reached the end of Ahsoka's story. It was enough to know she'd survived the duel with Vader. But then… there she stood, ready to fulfill her promise to find Ezra. I love her new look, and not just because it has a bit of a Gandalf-feel to it, but it begs so so many questions! My assumption is she's become a priestess of sorts for a new branch of Forcewielders apart from Jedi and Sith. But if she is, what does that mean later on for Luke and his attempts to rebuild the Jedi? What does it mean for Rey, trying to find her place in the Force? Or does this supposed new sect of Ahsoka's even make it that far in the future? Or maybe it just took 30-odd years for Ahsoka and Sabine to find Ezra and then they show up in the middle of Episode IX all "Whoa what happened while we were gone??". Honestly, I'd be totally up for something like that!
But wherever they go from here, they go with hope. The kind of hope that can save the galaxy.. and actually did ❤
I've got so many feels I don't know what to do with them. What an amazing journey it's been! But thank you so much for reading this.
Thank you for reading all these Rebel Transmissions over the years.
And this all comes around the time my blog just turned five years old, so even more thanks for reading this blog, for fanboying/fangirling alongside me, and for making Padawanline what it is today! Just.. thank you!
Keep The Peace,
– Twilight
WAIT! THERE'S A NEW TRANSMISSION COMING IN…
SOMETHING ABOUT…
THE RESISTANCE!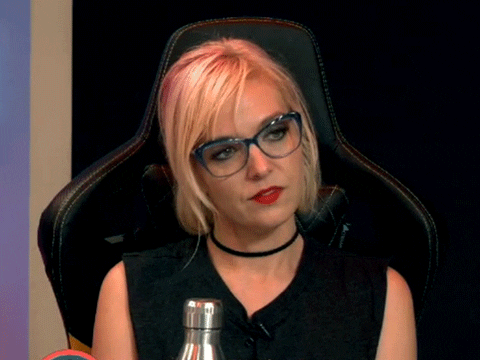 (Credit: GIPHY)
Wow I couldn't have planned this if I tried. We will talk more about this soon!
Oh, right, and here's the Best-Of posts for the year 🙂
Following The Freemakers: Return Of The Kyber Saber
If Not For IV…: A Special Star Wars Day Story
Fun With The Freemakers Shorts!
Following The Freemakers: The Tower Of Alistan Nor
Following The Freemakers: The Pit And The Pinnacle
A Very Fangirly Analysis Of The New Last Jedi Trailer
Rebel Tranmissions: In The Name Of The Rebellion
Rebel Transmissions: Kindred
Looking Back On The Original SWR Shorts
Rebel Transmissions: Jedi Night